La reunión que desde 1954 convoca cada año a los emisarios de las aristocracias de Norteamérica y Europa con el objetivo de sintetizar sus ideologías para alinearlas a un proyecto de control global unipolar, será celebrada este año en el lujoso Pestana Palace de Lisboa.
ACTUALIZACIÓN: En un comunicado de prensa publicado el 18 de mayo en su portal oficial, el Club Bilderberg enlistó los temas clave de su "debate" este año:
Inteligencia Artificial.
Sistema bancario.
China.
Transición energética.
Europa.
Retos fiscales.
India.
Política industrial y comercio.
OTAN.
Rusia.
Amenazas transnacionales.
Ucrania.
Liderazgo de EE.UU.
En su comunicado, el Club también hizo públicos los nombres de los asistentes a la reunión (ver la parte inferior de esta nota).
Por Mente Alternativa
Según diversas fuentes, el evento será celebrado del 17 al 20 de mayo de mayo en el Pestana Palace, un hotel de lujo en el distrito de Alcântara en Lisboa, Portugal.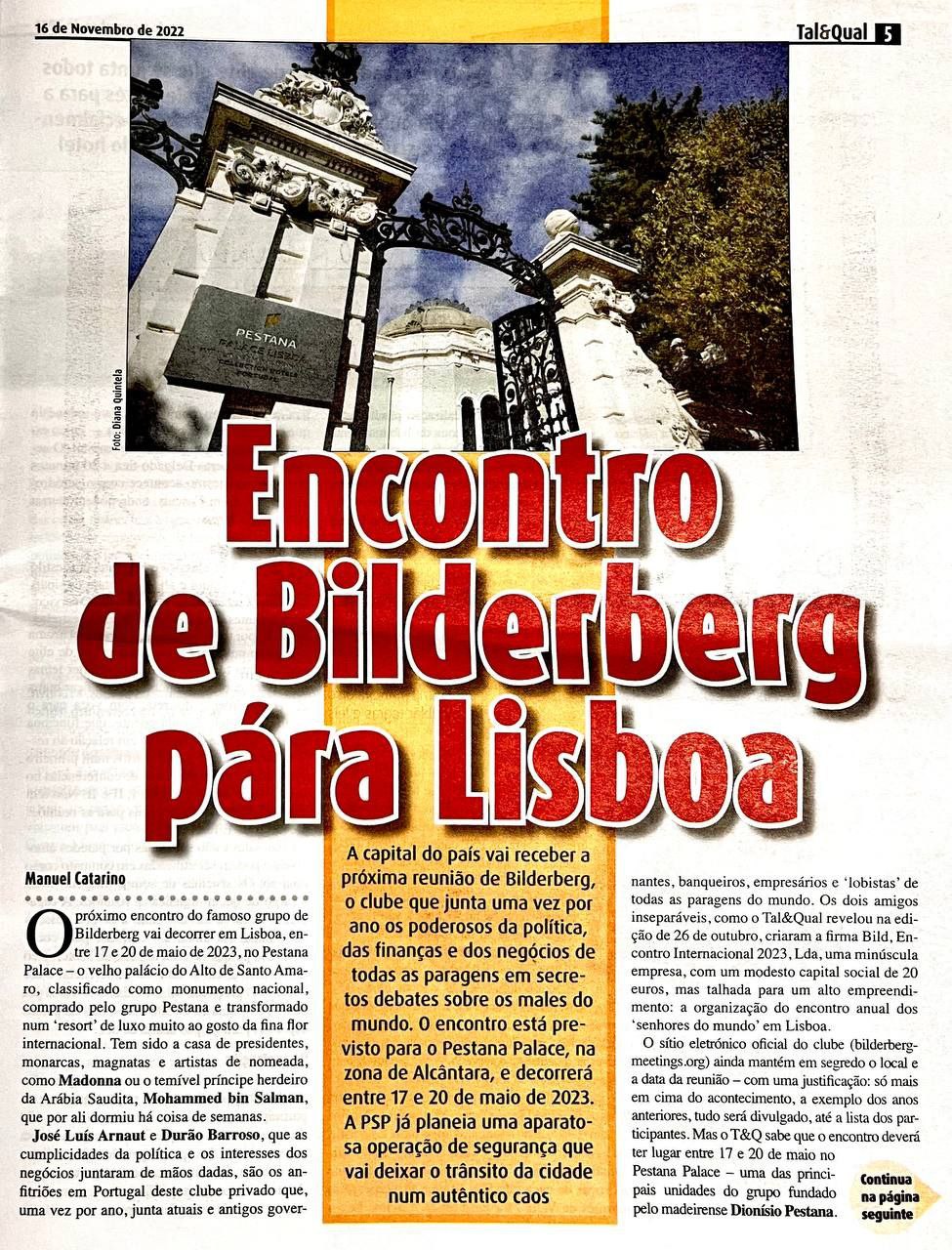 El calendario de actividades de los miembros de la Comisión Europea para el período del lunes 15 de mayo de 2023 al domingo 28 de mayo de 2023, indica que el Comisionado de Economía Paolo Gentiloni y el Comisionado de Justicia, Didier Reynders, se presentarán el viernes 19 de mayo en la reunión anual del Club Bilderberg (1).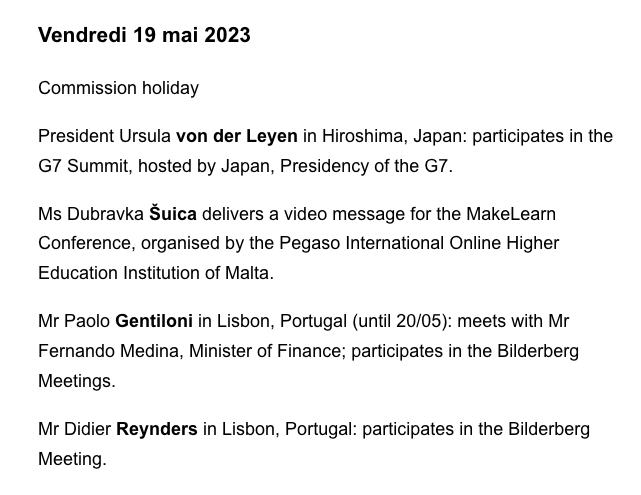 Según su propia definición, la reunión anual de Bilderberg ha sido desde su reunión inaugural en 1954:
"un foro de discusiones informales para fomentar el diálogo entre Europa y América del Norte. Cada año, aprox. 130 líderes políticos y expertos de la industria, las finanzas, el trabajo, la academia y los medios de comunicación están invitados a participar en el Encuentro. Aproximadamente dos tercios de los participantes provienen de Europa y el resto de América del Norte; un tercio de la política y el gobierno y el resto de otros campos. La Reunión es un foro para discusiones informales sobre temas importantes. Las Reuniones se llevan a cabo bajo la Regla de Chatham House, que establece que los participantes son libres de usar la información recibida, pero no se puede revelar la identidad ni la afiliación del (los) orador(es) ni de ningún otro participante. Gracias a la naturaleza privada de la Reunión, los participantes participan a título individual y no a título oficial y, por lo tanto, no están obligados por las convenciones de su cargo ni por posiciones previamente acordadas. Como tales, pueden tomarse el tiempo para escuchar, reflexionar y recopilar ideas. No hay una agenda detallada, no se proponen resoluciones, no se votan y no se emiten declaraciones de política." (el énfasis es nuestro).
Daniel Estulin, especialista en criptopolítica y autor del documental Club Bilderberg, lo resume así:
"Uno de los principales objetivos del Club Bilderberg ha sido someter la soberanía de los países europeos libres al gobierno mundial único angloamericano… Si analizamos los puntos de los programas de las reuniones del Club Bilderberg desde sus principios en 1954, destaca notablemente el intento de dirigir, o controlar, o encausar, las divergencias ideológicas entre la aristocracia de Norteamérica y también Europa con respecto al modo en que estos dos grupos deberían ir para ir saqueando el planeta… Desde 1954, los Bilderberg han sido la representación de esta élite, la riqueza más absoluta de todos los países occidentales, repito: financieros, empresarios, banqueros, políticos, líderes de las multinacionales, presidentes, primeros ministros, ministros de finanzas, secretarios de Estado, representantes del Banco Mundial, del FMI, presidentes de los conglomerados de los medios de comunicación internacionales y líderes mundiales. El Vaticano nunca ha participado…ni en su propio nombre ni a través de ningún representante de la Iglesia Católica… El Comité Directivo del Club Bilderberg decide a quién invitar, a dedo… Su criterios se han mantenido intactos a lo largo de 70 años de reuniones secretas. Básicamente estamos hablando de entusiastas del Nuevo Orden Mundial [unipolar] y del socialismo fabiano y lo que describen como el control democrático de la sociedad en todas sus actividades. La palabra clave aquí no es democracia, sino control: Cómo controlar a las personas a través de un gobierno global". (2) (el énfasis y los corchetes son nuestros)
Lista de Participantes de la Reunión del Club Bilderberg 2023
Abrams, Stacey (USA), CEO, Sage Works Production
Achleitner, Paul M. (DEU), Chair, Global Advisory Board, Deutsche Bank AG
Agrawal, Ajay (CAN), Professor of Economics, University of Toronto
Albares, José Manuel (ESP), Minister of Foreign Affairs
Altman, Sam (USA), CEO, OpenAI
Alverà, Marco (ITA), Co-Founder, zhero.net; CEO TES
Andersson, Magdalena (SWE), Leader, Social Democratic Party
Applebaum, Anne (USA), Staff Writer, The Atlantic 
Arnaut, José Luís (PRT), Managing Partner, CMS Rui Pena & Arnaut
Attal, Gabriel (FRA), Minister for Public Accounts
Balsemão, Francisco Pinto (PRT), Chair, Impresa Group
Barbizet, Patricia (FRA), Chair and CEO, Temaris & Associés SAS
Barroso, José Manuel (PRT), Chair, International Advisors, Goldman Sachs
Baudson, Valérie (FRA), CEO, Amundi SA
Beaune, Clément (FRA), Minister for Transport 
Benson, Sally (USA), Professor of Energy Science and Engineering, Stanford University
Beurden, Ben van (NLD), Special Advisor to the Board, Shell plc 
Borg, Anna (SWE), President and CEO, Vattenfall AB
Borrell, Josep (INT), Vice President, European Commission
Botín, Ana P. (ESP), Group Executive Chair, Banco Santander SA
Bourla, Albert (USA), Chair and CEO, Pfizer Inc.
Braathen, Kjerstin (NOR), CEO, DNB ASA
Brende, Børge (NOR), President, World Economic Forum
Brink, Dolf van den (NLD), CEO, Heineken NV
Brudermüller, Martin (DEU), CEO, BASF SE
Buberl, Thomas (FRA), CEO, AXA SA
Byrne, Thomas (IRL), Minister for Sport and Physical Education
Carney, Mark (CAN), Vice Chair, Brookfield Asset Management
Cassis, Ignazio (CHE), Federal Councillor, Federal Department of Foreign Affairs
Castries, Henri de (FRA), President, Institut Montaigne
Cavoli, Christopher (INT), Supreme Allied Commander Europe
Ceylan, Mehmet Fatih (TUR), President, Ankara Policy Center
Chhabra, Tarun (USA), Senior Director for Technology and National Security, National Security Council
Creuheras, José (ESP), Chair, Grupo Planeta and Atresmedia
Debackere, Koenraad (BEL), Chair, KBC Group NV
Deese, Brian (USA), Former Director, National Economic Council
Donohoe, Paschal (INT), President, Eurogroup
Döpfner, Mathias (DEU), Chair and CEO, Axel Springer SE
Easterly, Jen (USA), Director, Cybersecurity and Infrastructure Security Agency
Economy, Elizabeth (USA), Senior Advisor for China, Department of Commerce
Ehrnrooth, Henrik (FIN), Chair, Otava Group
Émié, Bernard (FRA), Director General for External Security, Ministry of the Armed Forces
Empoli, Giuliano da (ITA), Political Scientist and Writer, Sciences Po
Entrecanales, José M. (ESP), Chair and CEO, Acciona SA
Eriksen, Øyvind (NOR), President and CEO, Aker ASA
Ferguson, Niall (USA), Milbank Family Senior Fellow, Stanford University
Fleming, Jeremy (GBR), Former Director, GCHQ
Frederiksen, Mette (DNK), Prime Minister
Freeland, Chrystia (CAN), Deputy Prime Minister
Garijo, Bélen (DEU), Chair and CEO, Merck KGaA
Gentiloni, Paolo (INT), Commissioner for Economy, European Commission
Gonzáles Pons, Esteban (ESP), Vice Chair, European People's Party
Gosset-Grainville, Antoine (FRA), Chair, AXA
Goulimis, Nicky (GRC), Board Member and Co-Founder, Nova Credit Inc.
Griffin, Kenneth (USA), Founder and CEO, Citadel LLC
Gruber, Lilli (ITA), Anchor, La7 TV
Gürkaynak, Refet (TUR), Professor of Economics, Bilkent University
Haines, Avril D. (USA), Director of National Intelligence
Halberstadt, Victor (NLD), Professor of Economics, Leiden University
Hassabis, Demis (GBR), CEO, DeepMind
Hedegaard, Connie (DNK), Chair, KR Foundation
Hofreiter, Anton (DEU), MP; Chair Committee on European Affairs
Holzen, Madeleine von (CHE), Editor-in-Chief, Le Temps
Jensen, Kristian (DNK), CEO, Green Power Denmark
Joshi, Shashank (GBR), Defence Editor, The Economist
Kaag, Sigrid (NLD), Minister of Finance; Deputy Prime Minister
Karp, Alex (USA), CEO, Palantir Technologies Inc.
Kasparov, Garry (USA), Chair, Renew Democracy Initiative
Kieli, Kasia (POL), President and Managing Director, Warner Bros. Discovery Poland
Kissinger, Henry A. (USA), Chairman, Kissinger Associates Inc.
Koç, Ömer (TUR), Chair, Koç Holding AS
Kolesnikov, Andrei (INT), Senior Fellow, Carnegie Endowment for International Peace
Kostrzewa, Wojciech (POL), President, Polish Business Roundtable
Kotkin, Stephen (USA), Senior Fellow, Hoover Institution, Stanford University
Kravis, Henry R. (USA), Co-Chairman, KKR & Co. Inc.
Kravis, Marie-Josée (USA), Chair, The Museum of Modern Art
Kudelski, André (CHE), Chair and CEO, Kudelski Group SA
Kuleba, Dmytro (UKR), Minister of Foreign Affairs
Lammy, David (GBR), Shadow Secretary of State for Foreign Affairs, House of Commons
Leysen, Thomas (BEL), Chair, Umicore and Mediahuis; Chair DSM-Firmenich AG
Liikanen, Erkki (FIN), Chair, IFRS Foundation Trustees 
Looney, Bernard (GBR), CEO, BP plc
Marin, Sanna (FIN), Prime Minister
Metsola, Roberta (INT), President, European Parliament
Micklethwait, John (USA), Editor-in-Chief, Bloomberg LP
Minton Beddoes, Zanny (GBR), Editor-in-Chief, The Economist
Moreira, Duarte (PRT), Co-Founder and Managing Partner, Zeno Partners
Moyo, Dambisa (GBR), Global Economist; Member, House of Lords
Mundie, Craig J. (USA), President, Mundie & Associates LLC
Nadella, Satya (USA), CEO, Microsoft Corporation
O'Leary, Michael (IRL), Group CEO, Ryanair Group
Orida, Deborah (CAN), President and CEO, PSP Investments
Özel, Soli (TUR), Professor, Kadir Has University
Papalexopoulos, Dimitri (GRC), Chair, TITAN Cement Group; Treasurer Bilderberg Meetings
Philippe, Édouard (FRA), Mayor, Le Havre
Pottinger, Matthew (USA), Distinguished Visiting Fellow, Hoover Institution
Pouyanné, Patrick (FRA), Chair and CEO, TotalEnergies SE
Rachman, Gideon (GBR), Chief Foreign Affairs Commentator, The Financial Times
Ramírez, Pedro J. (ESP), Director, El Español
Rappard, Rolly van (NLD), Co-Founder and Co-Chair, CVC Capital Partners 
Reynders, Didier (INT), European Commissioner for Justice
Röttgen, Norbert (DEU), MP, German Bundestag
Rutte, Mark (NLD), Prime Minister
Salomon, Martina (AUT), Editor-in-Chief, Kurier
Sawers, John (GBR), Executive Chair, Newbridge Advisory Ltd. 
Schadlow, Nadia (USA), Senior Fellow, Hudson Institute
Schallenberg, Alexander (AUT), Minister for European and International Affairs
Schmidt, Eric E. (USA), Former CEO and Chair, Google LLC
Schmidt, Wolfgang (DEU), Head of the Chancellery, Federal Minister for Special Tasks
Sebastião, Nuno (PRT), Chair and CEO, Feedzai
Sikorski, Radoslaw (POL), MEP, European Parliament
Silva, Filipe (PRT), CEO, Galp
Stilwell de Andrade, Miguel (PRT), CEO, EDP
Stoltenberg, Jens (INT), Secretary General, NATO
Subramanian, Arvind (INT), Senior Fellow in International and Public Affairs, Brown University
Tellis, Ashley J. (USA), Tata Chair for Strategic Affairs, Carnegie Endowment
Thiel, Peter (USA), President, Thiel Capital LLC
Tsu, Jing (USA), Professor of East Asian Languages and Literatures, Yale University
Tugendhat, Tom (GBR), Minister of State for Security
Vadera, Shriti (GBR), Chair, Prudential plc
Vassilakis, Eftichios (GRC), Chair, Aegean Group
Waldron, John (USA), President and COO, The Goldman Sachs Group, Inc.
Wallenberg, Marcus (SWE), Chair, Skandinaviska Enskilda Banken AB
Wennink, Peter (NLD), President and CEO, ASML Holding NV
Wright, Thomas (USA), Senior Director for Strategic Planning, National Security Council
Yang, Yuan (GBR), Europe-China Correspondent, Financial Times
Yergin, Daniel (USA), Vice Chair, S&P Global    
Yinanç, Barçin (TUR), Journalist, T24 News Website
Tres cortesanos que la nobleza negra ha usado para moldear la estructura supranacional de la Unión Europea
Notas a pide de página
1. European Comission: Calendrier du lundi 15 mai 2023 au dimanche 28 mai 2023. 12 de mayo de 2023.
2. Daniel Estulin, en Ángel Metropolitano: Bilderberg 2023. 15 de mayo de 2023.